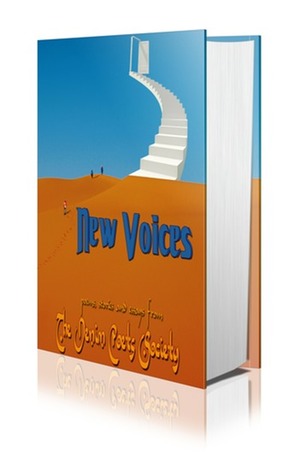 CONTENTS OF NEW VOICES (Syracuse, Auburn, Skaneateles)


Elizabeth Hepburn Weiss  1
The End of Summer                
Beverly Ann Scholl  7    
Ever After    
Reunion        
Something    
The View    
Movin' In    
MBE Gentner  24
Once Upon a Bike: A Father's Journey    
Beauty and Other Things        
Marie Theres Dünkelsbühler  34
Toy Dress
Fallen Leaves
Water, Waves, Rocks
These Long Summer Evenings
Frances Hansen  44
Coronado
Carrie Chantler  61
Count Me Out
Bob Doolittle  66
Upstream
The King of Kindness
Heidi Doheny Jay  83
When Will I Get My Answer?
Nancy F. Bailey  92
Life
Kathryn Carlson  99
Baseball Memories
Tom Adessa  107
Wedding Poem
Listen to a Sunrise
A Selfless Thought
Sarah J. Turner  118 
A Woman's Place
Joyce Barnett  129
The Ghost of Lent Cove
Bourke Kennedy  138
Dance Class
Essence
Open Sesame
Ed, I Am
Time Piper
Conversation
Sheila Palmer Chilson  160
Silos
Sondra's by the Sea
Stephen Halebsky  181
Talking to Mary
Wendy Kopley  188
A Lesson Not Yet Learned
Sarah Curtis  195
The Dark Crystal
It Matters to Me
Elisabeth Hurley  211
How the Nazis Warped the Spirit of Carnival    
A Special Tribute: September 2001
David Couch  222
The Christmas Clock
Joanne Mark  231
Just an Old Walking Stick
Rose-Colored Glasses
JC Merritt  241
Jensen Beckett, New Age Vampire
Leslie Camaione  251
Tony
Bruce Keller  256
There's No Biz
Eddy
In a Bar
Lucy Pendragon
The Assignation
The Mistake
Carolyn M. Crews  283
They Never Do!
See the U.S.A. in our Chevrolet
Search Lights
Big Foot!
Alice in Wonderland?
Virginia Hamlin  298
Monsters in the Basement
Laurie Jerva  304
Santa's Stinky Breath
Judy Morrissey  307
Memories
Daniel Glaza  315
Puzzle Boxes
Molten Land and Volcanic Air
Margaret Baum  321
Looking Glass
Temporary
Cletus Capitano  327
Interview
The Man in the Painting Speaks to the Poet
Orioles in the Mist
Matador of the Sun
Crossing the Bitterroots